Published on 01 June 2012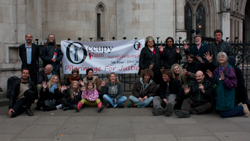 On June 7, Occupy Faith – an off-shoot of the international Occupy movement – begins its two-week Pilgrimage for Justice from London to Canterbury.
A small group of committed people of faith will come together to walk their modern, urban, version of the ancient pilgrim route. The pilgrims will start from St Paul's Cathedral, in the heart of London, on 7 June, and will finish in Canterbury on 19 June. The pilgrimage will be followed with a conference on social, economic and environmental justice on 20 June.
The pilgrimage is open to all – and people are welcome to join in for whatever portion of it they can – whether an hour, a day, a week or more. The message from the organisers is: "Give of your gifts and your presence and come and join us!"
Kevin Snyman, training and development officer for South Wales, has been a keen supporter of the Occupy movement since its UK inception, and he explained that his commitment to Occupy comes from deep rooted convictions about the relationship between political and economic power, and the Church's place in that.
Kevin said: "I am convinced that of all the really important stuff that the Church does in the world, its quintessential task is to proclaim truth to power; the truth is that Jesus is Lord. In our context here in the UK, that must mean that the Church must speak the truth to economic power … the Church must die to the power of the world and its worship of economic wealth and live as if Jesus truly is Lord, for this is what we confess."
Kevin will be walking the whole route and can be contacted before and during the pilgrimage, at This email address is being protected from spambots. You need JavaScript enabled to view it.
The United Reformed Church Synod of Wales has adopted a resolution in support of the Occupy movement; and next month, a resolution about Occupy will be put to the URC General Assembly.
More information, including details of the route and daily distances, can be found on the Occupy Faith website or on their Facebook page.