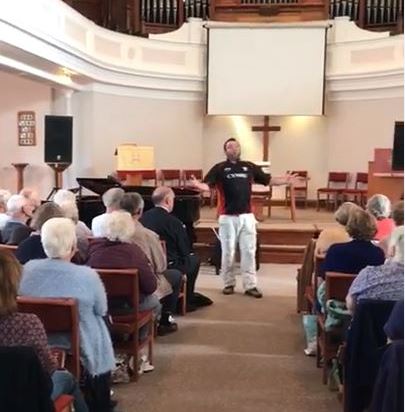 With more than 100 people packing its hall every month, Maldon United Reformed Church, Maldon, Essex, offers free lunch time music concerts to show the community what being a Christian means to members.
The concerts, held on the second Thursday of every month, have been running for 15 years.
And Sylvia Rickett, a church elder, who has been involved since the start, explains how the activity has quickly become a highlight in the church's calendar, and gives people an insight in what being a Christian is all about.
'It's very daunting for people to come into a church sometimes,' said Sylvia. 'If you can encourage them in other ways and welcome them, it's showing them how we Christians live and what we do as disciples. We are showing them our facility isn't just a building for church.'
The concerts began when members of the church decided to try new things and set up events.
'We thought we would try concerts,' continued Sylvia. 'We have had so much success from it. We have anything from 80 to 110 people attending each month. When people come through our doors, we welcome them, it's not about religion and we don't preach to them. We are just saying come to our church make friends and fellowship, enjoy live music and a cup of tea. We invite everybody who can make it. We have people from residential care homes, they often come with their carers. We make space for wheelchair users. We invite schools, everybody is welcome.'
The concerts have now become a huge part of the community.
'It's a meeting point,' added Sylvia. 'We find we have people who come on their own and they will recognise somebody, sit down and have a cup of tea and enjoy the concert. At the very end all we ask for is a donation. If somebody cannot afford anything that's absolutely fine. All the money goes towards the concert as we have to pay for the heating, piano costs, and the artists, and we can pay anything up to £200.'
In mid-October, a scheduled performer had to pull out of a concert and John Pierce, a painter and decorator from Wales, who happened to be working at the church with his father-in-law, who coincidentally was trained in operatic singing, swapped his paint brushes for sheet music and saved the day entertaining the audience. The event made the national news.
'It's about bringing people through the door in creative ways,' continued Sylvia. 'It's leading by example, we care about the community, people and giving them a chance to meet and interact with each other.'
Video and picture of singer John Pierce: Maldon Standard